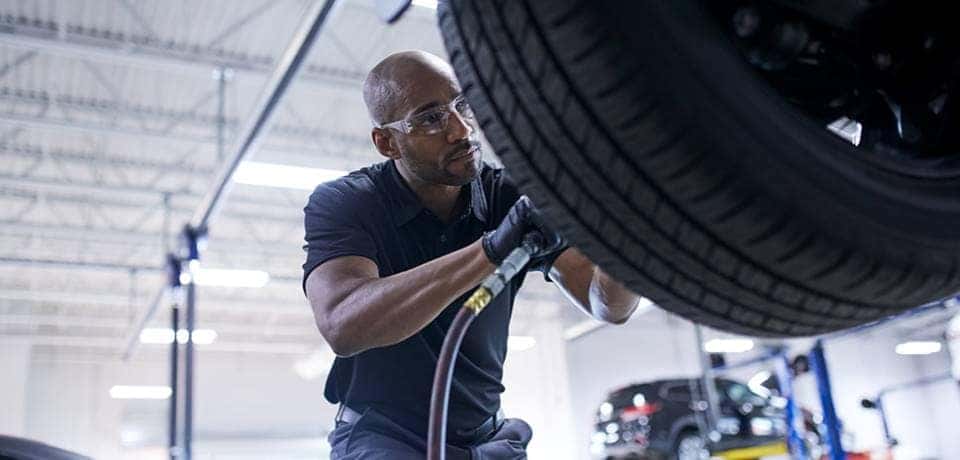 How Often Should You Rotate Your Tires?
Generally, tires should be rotated at every 5,000 to 7,500-mile interval. While this is a good ground rule, you'll want exact figures on when your specific model should have the tires rotated. To find these, check your owner's manual or visit us at the Findlay Mazda service center to have one of our technicians help. Want to learn more today about our services or the Mazda6 accessories available? Read through this simple guide from the folks at Findlay Mazda, your Henderson-area trusted service center.
Rotating Tires on FWD and RWD Vehicles
The designations of front-wheel and rear-wheel drive simply mean where power from the engine is sent. This means the set of tires receiving the bulk of the power will wear faster. This means you'll want to keep a few things in mind when having your vehicle's tires rotated:
For FWD or RWD cars, tire rotation needs to be performed every 5,000 to 7,500 miles. Be sure to consult your owner's manual for exact figures.
If you're performing a FWD tire rotation yourself, keep in mind to flip sides when moving the rear tires. For example, the rear right tire will go on the front left. However, when moving the front tires to the back, keep them on the same side.
When rotating tires on an RWD car, invert the process above. Flip sides when moving the front tires to the back, but keep the rear tires on the same side when moving them forward.
Keep in mind how certain driving like off-roading will affect how often you need to rotate your tires. Talk with the service experts at Findlay Mazda to get a better idea of a maintenance schedule that fits your driving habits.
AWD Tire Rotation Tips
Is your vehicle AWD and are you curious to know how many miles to rotate tires on an AWD model? Since the power goes to all of the wheels, the wear on each tire depends on your driving style as well as a few other factors. Most experts set the standard timeline at 3,000 to 5,000 miles.
You'll want to check your owner's manual for exact numbers for your specific vehicle, however, just to ensure your vehicle gets the maintenance it needs. If you can't remember the last time you performed a tire rotation, don't hesitate to schedule service at Findlay Mazda. We'll perform an inspection to see if you're due for a rotation–tires usually require a rotation once the tread variance exceeds 2/32 of an inch.
Get Your Tire Advice From Findlay Mazda
When was the last time you had your vehicle's tires rotated? Bring your vehicle in for a service appointment today and save more with our available service specials. Have any questions in the meantime about our services, how to open a Mazda key fob, how to check car oil, learn about Mazda CX-9 colors, or want to compare models like the Mazda CX-5 vs. Honda CR-V or Mazda CX-5 vs. Toyota RAV4? Contact Findlay Mazda, your local Mazda dealer.